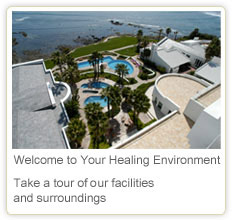 Healthcare for the 21st Century
Sanoviv, derived from the Spanish words "healthy living", provides your mind, body and spirit with a toxic-free environment to restore your health. Sanoviv has created a unique standard of quality, excellence and cleanliness never before seen in medical care.
Sanoviv is the first medical facility to be certified in Functional Medicine by the Institute of Functional Medicine. The majority of our health care professionals (Physicians, Dentists, Psychologists, Chiropractors and Nutritionists) went through intense training to achieve this.
Our staff is committed to treating you as a whole being, focusing on your biochemical individuality and the underlying factors causing your health issues, not just your symptoms. We apply an integration of the best in modern medicine combined with holistic and alternative therapies to find that which works for you.
---
When you visit us for one of our treatment programs, you will undergo a series of diagnostic tests, including many that are not available in the U.S. or Canada. The doctors will then draw on a range of conventional and alternative treatment options to develop a comprehensive program specifically tailored to your individual needs.
To learn more about what your specific program will entail, please contact us now.